No, this isn't about the TV show, although I do love This Is Us. With this being the day after Valentine's Day, I'm doing something a little different for this week's Friday Favorite's post. I thought it might be fun to show you some of my favorite pictures of my hubby and me from our first years together. As I took a trip down memory lane, looking back through a bunch of my old pictures, I was filled with nostalgia. And I realized that I don't have very many pictures of just the two of us since we started having kids. So I'm making a mental note that we need to take more of the two of us, even if they're just fun selfies, like most of my favorites here. It's so easy to get wrapped up in the day to day stuff of life, but I believe it's so important to capture our memories, both the big milestones and exciting experiences, but also the small everyday moments. Because before you know it, you'll wonder how 10 years has gone by so quickly. So if you're lucky enough to have a special someone in your life, make sure you take the time to appreciate them, not just on Valentine's Day, but every day. Get some pictures done, take a few selfies, whatever. Trust me, you'll appreciate it 10 years from now, when you look back and relive all those memories, and think wow, I was so tan, and I can't believe I cut my hair like that ;) So without further ado, here are some of my favorites from around 2009-2014, the first half of our decade together.
These were from a wedding we attended together soon after we started dating almost 10 years ago. And check out Matt and the "nuzzle", working it like a pro, before we even knew that was a thing. If I've photographed you as a couple, you know what I'm talking about ;) I had recently started getting into photography, so we practiced our self-portrait skills with my "new" camera every time we were dressed up and near a big mirror :)
And another wedding that summer where Matt was a groomsman.
This was in the fall of '09, a year before we got married, and this will always be one of my favorite pictures of the two of us. I mean, look how cute he is! This was at a concert we attended to see one of my favorites, Mae, one of the few bands that I loved 10 years and is actually still together.
In late 2009, we took a fun day trip with Matt's brother to visit NYC and wander around Central Park. We joked then that these pictures his brother took of us kinda looked like engagement pictures. Little did I know that less than 3 months later, we would actually be engaged.
And then this one was from our actual engagement pictures the following summer. I love this picture because it is so us, probably laughing at something really goofy.
These next few were from our honeymoon in Jamaica. We were surprised with a free upgrade to first class on first flight out, which was awesome. Our original seats were the very last seats on the plane, you know, the ones with no window and right in front of the bathroom. Matt jokingly said to the flight attendant, "What do we have to do get a seat with a window? Haha" To which the flight attendant replied simply, "Pay more for your ticket." And then, shortly before take-off, she came back and said "Follow me." Of course, I thought we were in trouble, but then without much explanation, she sat us in a couple of empty seats at the front of coach. Matt asked her, "Was this because you had extra seats, or because you knew it was our honeymoon?" And she replied, "Hold on a second…" And then before we knew it, we were being taken up to first class, where I guess they had some empty seats available. Of course, since we had never flown first class before, we were like giddy little kids and had to capture our excitement, haha. I remember sipping our complimentary champagne thinking, this is amazing!!
And then the last picture here is one of my favorites of us just relaxing outside our room at our beautiful resort in Jamaica.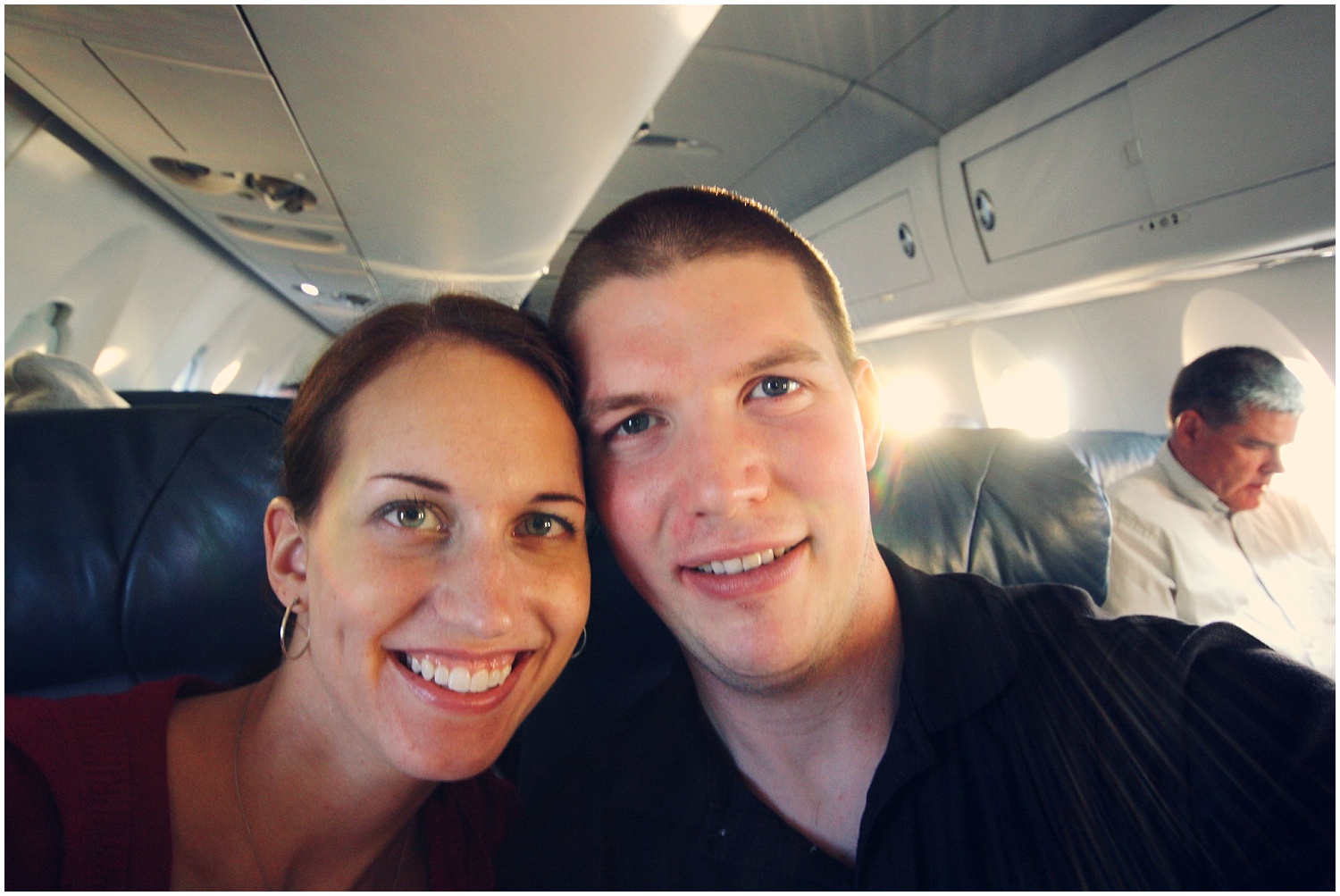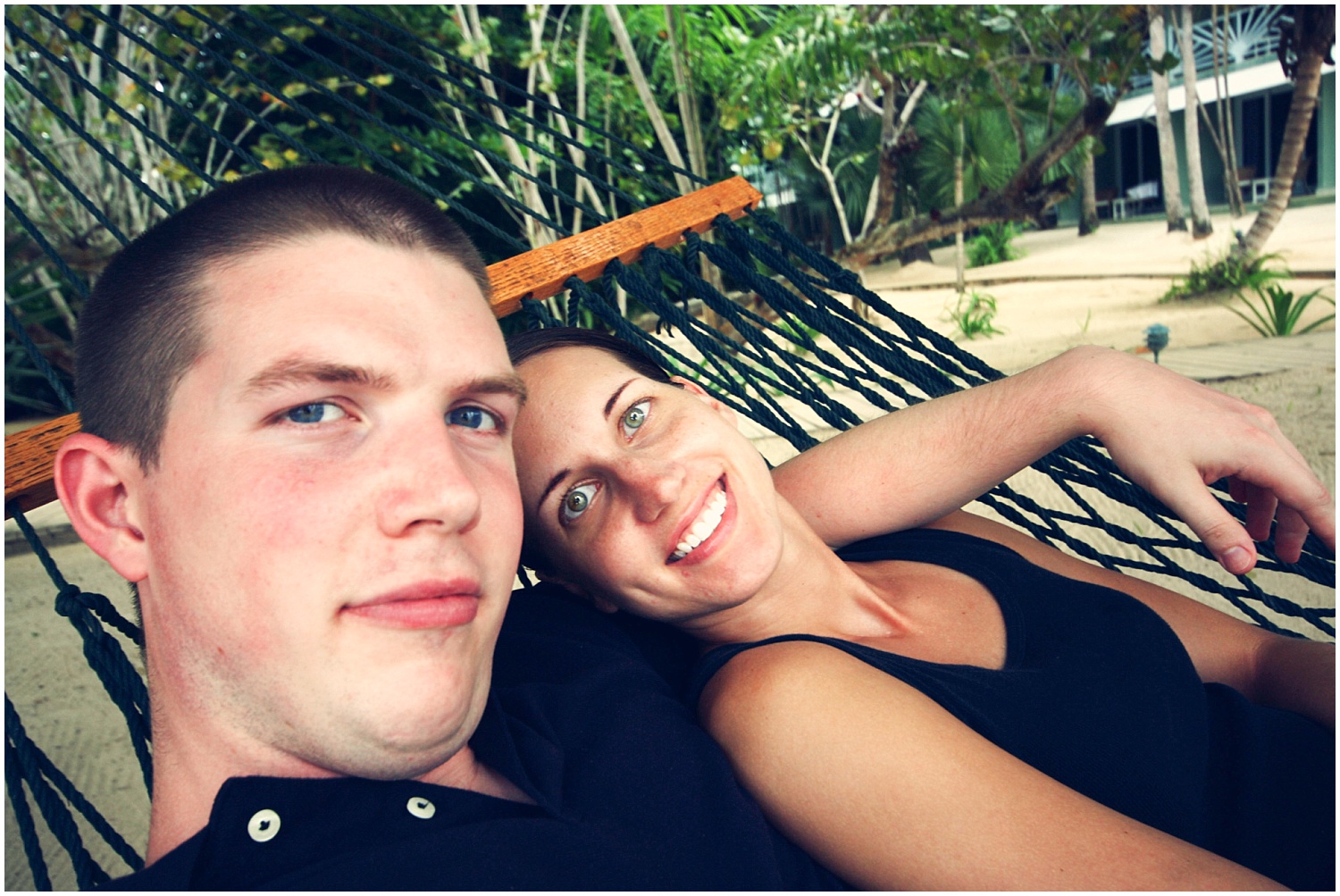 These next pictures are from a trip to Florida we took at the end of January 2012. And let me tell you, if you live in the Northeast US, or anywhere else that gets pretty cold winters, the end of January is the perfect time to go to Florida :)
New camera, new lenses…still taking selfies in big mirrors. :)
Another wedding, another mirror selfie. But this time, a couple things to note. See the other guy with the camera standing on a chair in the back? That's Cody Wanner, the guy who photographed my cousin's wedding here in 2013 , and now is an awesome film-making YouTuber, go check him out! https://www.youtube.com/channel/UCtJm2QGyeAFH1jcmQY6o-ZQ It was fun getting seated at the same table with him and his wife, Amber, at this wedding, and getting to chat with them. And now, following along on his YouTube journey and all the cool things he's doing for his community has been pretty neat.
Also, I was pregnant with Ellie here, and exactly 2 months after this picture was taken, I went in to labor and gave birth to my first baby girl.
This is from when I took Matt to the Melting Pot for his 30th birthday, and we had the most delicious fondue dinner. If you've never been there, I highly recommend it, so much fun.
And then this last one is also from spring of 2014, when we visited Longwood Gardens and took a bunch of pictures of beautiful flowers. If you ever want to spend a whole day exploring flowers and plants and stunning landscaping, you have to check out this place. Their attention to detail is incredible.
And that concludes my little walk down memory lane of the first half of our decade together. In some ways these pictures seem like so long ago, and in other ways, I remember them like yesterday. Here's to many more selfies with this guy here, and finding lots of other mirrors to pose in front of.